Welcome to P & D Sales and Service LLC!
Paul and Deena Anderson's lives changed forever when they purchased Raymakers, Inc. On April 7, 2008, Paul and Deena Anderson began a new venture and named it, P & D Sales and Service LLC. Paul had been a full-time employee of Raymakers, Inc. for 17 years prior to purchasing the business and making it their own.
Paul grew up in Denmark, Wisconsin where he spent his middle school and high school years working on his grandfather's farm. Anderson also worked for various farmers around the Denmark community. After graduating from high school he started working for Gary and Ellen Raymaker as a full-time employee. As the years went by, it seemed Gary and Ellen saw the dedication that Paul had for the company, and their customers. They knew that when the day came for them to retire, they could trust that Anderson would be the person that could continue the business to the high standards that they built it.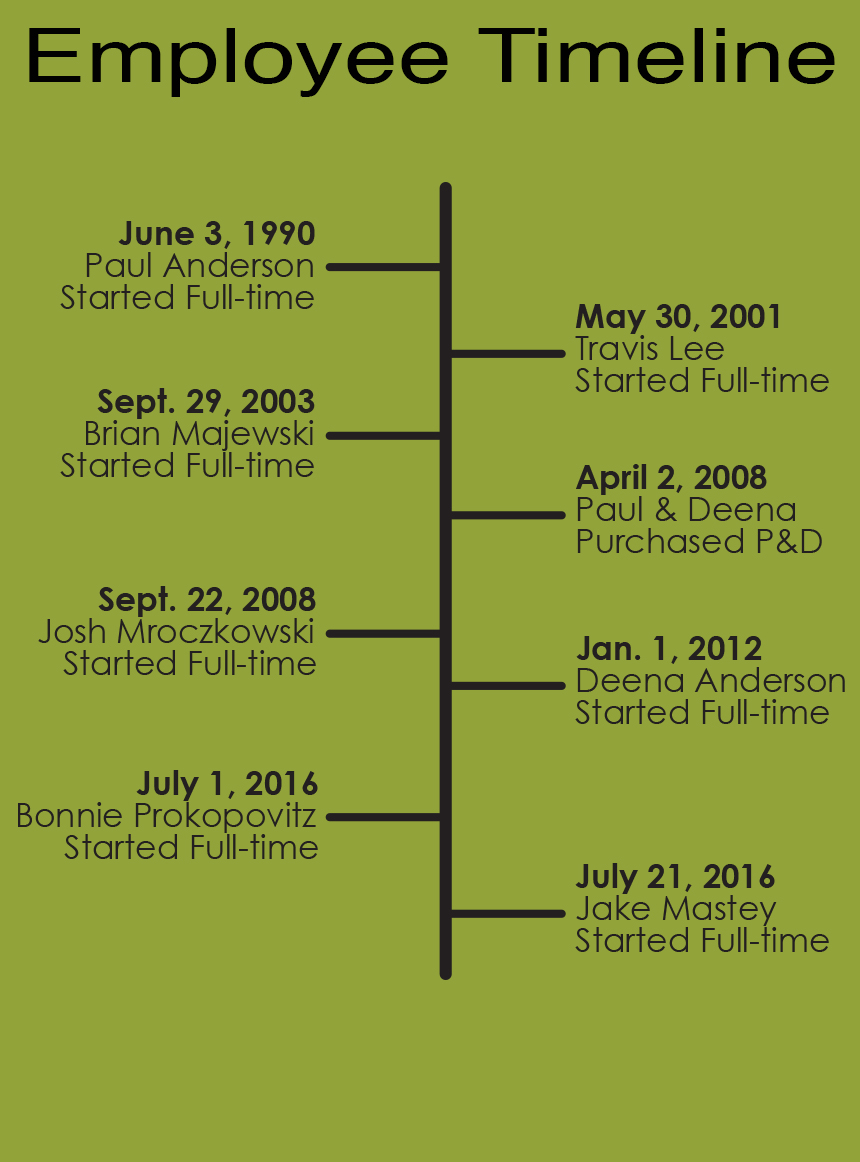 Paul's wife, Deena, who had worked as a case-worker for Brown County Human Services for 13 years, decided to jump in with both feet and become an active member in the business. Deena had very little knowledge of the agricultural industry, but found out that she is teachable. The majority of the customers are willing to educate her… as they scope through the manuals in an attempt to find the part they need. "I was very apprehensive about leaving my job, jumping into something I knew little to nothing about, but it has truly been the best, most rewarding thing I have ever done" says Deena.
Deena and Paul have two daughters; Kim, works full-time at Badger Sheet Metal in Green Bay, Wisconsin. Katie, Katie is now a Sophomore at UWSP and is playing softball for the Pointers.. They also have a 6 year old granddaughter, Kaydence, who has been a joy in their lives. She is a 1st grader at Glenbrook Elementary.
We have a variety of services for you.
P&D Sales will
Service/Repair

as well as

Install

ALL PATZ, Agromatic, and Ritchie Equipment … Included but not limited to:
• Mixers
• Silo Unloaders
• Conveyors
• Barn Cleaners
• Feed Carts
• Cow Mats
• Waterers

• Bale Choppers
• Alley Scrapers
• Pit Pumps
• Barn Remodel Projects
• Barn Additions
• Brand New Construction
•Pour Concrete Slabs, Side Walks


Our Community Involvement
Each year in March, P&D Sales and Service, LLC holds a Customer Appreciation Day/Open House. The business hosts a complimentary lunch from 9:00 am to 3:00 pm. Company representatives are on hand as well as numerous pieces of equipment on display for customers to see. P&D Sales and Service is a strong supporter of all FFA high school events, scholarship programs and sporting events.
Pulaski Polka Days is another event that P&D participates in. The business sponsors and creates a large float for the huge parade each year. Both friends and employees participate in the parade. P&D is a sponsor of entertainment at the Shawano Fair – DJ, as well as puts in rubber mats for our customer's cows so they have a comfortable stay at the fair. P&D also supports "The Farm Women of the Year" each year.